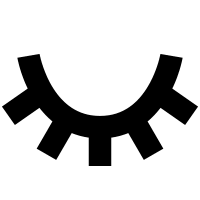 Taken on Zoom, January 2021
"I

feel free all the time. I make my life the way I really want to, with no compromises. I don't have children, I don't have dogs, I don't have lazy husband at home. I wake up in the morning and I do what I want. That feels really good"
LISTEN ON:
​
For International Women's Day 2021, we return with a special episode, in partnership with KLORIS, with Marina Abramović, the groundbreaking – and divisive – Serbian artist who changed the way we view performance art and who has spent the past half a century confronting the mental and physical limits of the body. Her early work in the 1970s is famed for its extremity, with pieces where she would cut the communist star into her stomach or invite an audience to use weapons on her, a thread she continued when she teamed up with her creative collaborator and lover Ulay, who passed away just before the pandemic struck in 2020. Their final piece together in 1988, where they walked from one end of The Great Wall of China and met in the middle, is one of the most elaborate break-ups of all time.
Since then, Abramović has become known for intertwining performance art with spirituality, shamanism and pop culture: she trained Lady Gaga in her 'Marina Abramović Method', starred in a Jay-Z
video, became a Tibetan buddhist and turned her attentions to durational works. These include her infamous piece The Artist is Present at the MoMa in New York in 2010, where she spent 700 hours sitting silently across a table from spectators – over 1,500 people came to sit opposite her, many of them moved to tears.

In this interview, conducted via Zoom at the start of this year, Abramović delivers some life lessons about creative fearlessness, the importance of failure and taking risks, how she survives criticism, why she
put her career in front of having children, how she never compromises, why she enjoys being in her seventies and what she has in common with the opera singer Maria Callas, on whom she has based
her own mixed-media performance, which will return to the stage in September, following its pre-pandemic premiere last year. A retrospective of her life's work – her first major exhibition in the UK – will now
be showing in 2023.
​
The Last Bohemians: Marina Abramović episode is a proud partnership with KLORIS, a superior CBD oil company whose mission is to use the power of nature to help and heal. Their exceptional and range of 100% natural, premium quality and highly effective CBD products spans 5% and 10% oil drops, 800mg luxury balm, superboost face oil, bath blocks and hand sanitiser, and is a favourite with VOGUE, Glamour, GQ, Elle and Grazia. Like The Last Bohemians, it's an awards winner: it won the Hip & Healthy CBD Awards 2020, was shortlisted at the Natural Health Beauty Awards 2020, was an Editor's Choice at the Beauty Shortlist Awards 2020 and was named a Best Buy for the Independent's Indy/Best 2020.
The KLORIS journey started as many good things do – and just like The Last Bohemians did! – with friends sharing a meal and talking. The team had all discovered CBD for different health reasons, tackling challenges from anxiety and insomnia through to menstrual cramps and back ache, and they were frustrated at the lack of ethical, reliable, science-backed products available. So they decided to do something about it. They spent months searching the globe for the purest CBD, cultivated and extracted in the most respectful and sustainable way, then blended it with organic ingredients to deliver products that are truly a joy to use, with efficacy the core purpose.
KLORIS is all about harnessing the healing power of nature, combined with good science, ethical business and respect for the environment. For more information and to see their range, visit www.kloricbd.com.
The Last Bohemians listeners can use the code LAST20 to get 20% off at checkout.
​
This episode was produced by Holly Fisher.
​
With thanks to KLORIS, everyone at the Marina Abramović Institute, Lisson Gallery, Irma Crusat,
Laura Martin at Real Life PR, Ali Gardiner, Johan Karlberg, Miles Cumpstey (www.speedwagon.me) and
Toni and Andy Shaw.
​
Music used in this episode (all via freemusicarchive.org):
Daniel Birch - Indigo Moon
Daniel Birch - Indigo Shore
Chad Crouch - Algorithms
Lobo Loco - Deepest Breath
Salakapakka Sound System - Kapina Tiibetissa
Siddhartha Corsus - Victory of Buddha
Sputnic - Spiritual Dreams
Tortue Super Sonic - Klezmer Uno