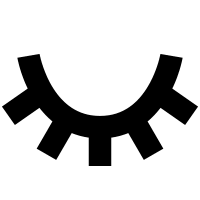 Gee Vaucher isn't perhaps as well known as some of her punk peers, but she should be: she's
one of the artists who defined punk's visuals of protest in the 1970s, especially with
her arresting photo-montage covers for Crass, the cult band and art collective she was part of,
who put anarchy into practice.
She had a stint in Manhattan as a political illustrator for The New York Times and she's also designed album sleeves for bands like The Charlatans and experimental hip-hop group Tackhead. Her piece for the latter, Oh America, in which the Statue of Liberty covers her face with her hands, went viral and was published on the front cover of newspapers when Trump was elected as President of the United States.
Gee's art continues to be confrontational, whether she's painting or, as she shows us, making an absolutely enormous book filled with millions of hand-drawn stick figures – one for every single person that died in World War I.
She is radical in every sense of the word. In this episode, Gee invites us to Dial House, on the edge of Epping Forest in Essex – a tumbling old cottage with a difference: it's run by Gee and her collaborator Penny Rimbaud as an anarchic "centre for radical creativity" where anyone can turn up at any time for a cup of tea and a chat. So that's just what we did, to hear Gee talk about her working relationship with Penny, why punk was a disappointment and the 'perverseness' of her art.
​
This episode was produced by Mae-Li Evans.
​
Music in this episode with thanks to freemusicarchive.org:
Cylinder five - Chris Zabriskie
Out of the Skies, Under the Earth - Chris Zabriskie
What True Self? Feels Bogus, Let's Watch Jason X by Chris Zabriskie
What Does Anybody Know About Anything - Chris Zabriskie
Candlepower by Chris Zabriskie
​
​
​
​
"Punk had become a puppet show. Sex Pistols had fucked it
up really. We thought, nah, this has got to be more than
Vivienne Westwood"